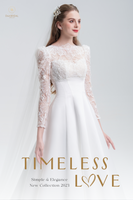 TIMELESS LOVE COLLECTION
Emphasizes simplicity with its straightforward cuts and premium materials. Each pleated, waist-cut, or connected element contributes to the collection's distinctiveness, giving the Bride a distinct curve.
SHOP NOW
GORGEOUS COLLECTION
Aware of just how important it is for every bride to look truly unique in white on her wedding day. With this collection, we offer a wide variety of wedding dresses in a range of styles that we're sure will include one that will suit you perfectly.
SHOP NOW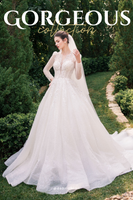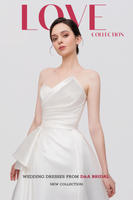 LOVE COLLECTION
Sophistication, classic styling, elegance and quality — the traits that make up the D&A wedding dress collection have epitomised the brand's intrinsic style.
SHOP NOW
MUSE COLLECTION
The Muse collection - like the name, this collection captures the beauty of emerging flowers, sunbeams, and the beauty of freedom and flight
Our Happy Clients
I was very hesitant at first but I bought this dress for my wedding. It needed to be modest and Dzun was very accommodating and helpful in answering all my questions. I added lining underneath the arms and sent in my measurements. Dzun was also accommodating in shipping the dress sooner. I got it in 3 weeks from date of purchase. It fit perfectly!!
The bead work was beautiful. Every piece was sewn on by hand. The stitch work was meticulous. The bodice is very well structured. Overall the dress is very good quality and very well made. Couldn't be happier. Highly recommend.

Sima S
It was PERFECt! I was first skeptical about buying a dress like this online. But after I contacted Ms. Nguyen my fear faded. She was nice throughout the process, answered my questions. I shared my measurement and even though I needed the dress like in "emergency" timing, she ensured me it would arrive on time. I tried it on and perfect fit. The fabric is delicate and of great quality, the back of the dress is impressively stunning, and the finish is professional. The dress is even more beautiful than the picture. I can't wait to use it for my wedding! Will upload a picture after the date! Thanks so much DABridal!! Would 100% recommend

Claudia Escoto
Absolutely incredible dress. I asked for a few adjustments from original design (no sleeves, different fabric) and Dzun Nguyen was so accommodating. Communication was excellent. I was sceptical to start with, buying a dress online, but I am over the moon with how it turned out. The beading is beautiful and the fabrics are of a great quality. Even my Dad shed a tear when I tried it on!!

Hannah Hinton